#
1 Are You Sure?
Be sure you want to file for divorce. The arguments, stress and negative emotions can make you want to jump into a divorce without taking the time to think things through. If you have carefully thought it out and divorce is the right path for you, make sure you are ready for a major undertaking.
#2 Do Your Research
Rules are: laws surrounding divorce vary state by state. In order to be mentally prepared, you must be familiar with the laws in your particular state. How long do you have to be separated before filing for divorce? Six months? A year? Look into the average costs associated with divorce. How much does your local attorney charge? Is it by the hour? Does he or she charge a retainer? Knowing these facts up front can help to prepare you for the lengthy road ahead.
#3 Set Your Goals
Before filing for divorce, think about your goals for the future, both personally and financially. This will not only give you something to work toward, but it will also help to determine the best way to proceed. How amicable will your split be? Would meditation work for you? What about collaborative divorce? It is important to consider the alternatives to court. Make sure you have reasonable expectation on how the divorce proceedings will go. Being unreasonable will only draw out the process, costing you time and money.
#4 Keeping the Home
Can you afford to keep it? Make an "after divorce" budget and carefully list all of your expenses. Does it make financial sense to keep the house? Be realistic, and if the answer is no, consider hiring a real estate agent and getting your home appraised.
#5 Consider Custody
If you have children, what is your ideal custody scenario? 50/50? Keep track of how much time you spend with your children and how much time your spouse spends with them. Make sure you put your kids first. Keep their best interests at heart, and try not to punish your ex.
Types of Custody
There are two types of custody: physical and legal. During the divorce negotiations, you will have to make decisions about both where the children will live (physical custody) and who makes decisions for the children (legal custody).
#6 Get Organized
The first thing to do when getting organized is to determine what you own and what you owe. Start collecting bank statements, mortgage statements, insurance information and the deed to the house. Make copies of these items and keep them in a safe place. You may also want to consider getting a post office box you can send any important, private or legal mail. Take inventory of any valuables you have such as jewelry, art work and anything stored in a safe deposit box. Keep a log and take pictures. This will keep you down the road when you are trying to determine the most equitable split of your assets.
#7 Close Joint Account
Do you have a joint credit account with your soon-to-be ex-spouse? Close it immediately. You don't want to be responsible for any financial decisions they make during the divorce process. If you are in the position to pay off the balances owed, do so. If you are unable to do that, contact your creditors and let them know you are going through a divorce. You will need to be notified if the card was reactivated, if there was a change of address or of unusual purchases.
#8 How's Your Credit?
Obtain a copy of your credit report. Is your credit score low? Consider opening a credit card in just your name to establish good credit. Often, stay-at-home spouses realize they are unable to purchase a car or a home after a divorce because they never established a credit history of their own.
Financial checklist.
Before meeting with a lawyer or a financial analyst, you can get started by gathering some necessary financial information:
Income and expenses
State and Federal tax returns
Mortgage documents from your last home purchase
Retirement account information
Inventory from safe deposit boxes
#9 Hire the Right Team
Make sure you have your bases covered. Your attorney is not your therapist, and it will become very costly for you if you treat them this way. They are there to provide you with legal advice and not marriage advice. Make sure you understand this going into your first meeting. Additionally, it will be important for you to hire a financial professional for your divorce team. The Goodman Team, a team of Certified Divorce Financial Analysts have been trained specifically to handle the finances in divorce cases. Having a CDFA professional on your team can ensure you understand the financial implication of any proposed settlement.
#10 Take Time For You
This is one of the most stressful time in your life. It will be helpful if you can take time to decompress and make sure you have the right support team around you. It is important to stay both physically and mentally healthy during this time. Make an appointment for a massage, go for a hike, eat healthy foods and make sure you are getting at least eight hours of sleep each night. Removing as much stress from your daily life as possible will help you think more clearly during divorce negotiations.
---
These tips are brought to you by a Merrill Lynch financial advisory team:
The financial advisors of the Goodman Group are a resource to attorneys, divorce coaches and therapists who work with divorcing women. They understand that a successful divorce builds a solid foundation for the future.
Jaime Goodman, CDFA™, CRPC®
Jaime leads the Goodman Group, that all hold the CDFA™, or Certified Divorce Financial Analyst™ designation. Jaime has run educational seminars for several years, seeking to educate women and guide them to financial independence. Through these and after her own divorce, she developed a particular interest in serving the unique needs of divorcing and post-divorce women.
Doug Grover, CDFA™, CRPS®,CFP®
Doug is Jaime's business partner and a Certified Financial Planner® in addition to holding the CDFA™.
---
Lisa Brick, Journey Beyond Partner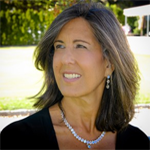 Our team of coaches at JBD is passionate about helping men and women navigate the emotional difficulties of relationships, breakups and divorce. We work together with you to open the possibility that your current relationship challenges can lead to a rewarding voyage of self-discovery and an immensely more pleasing life experience. Together we create a path to clarity. Find out if Coaching is right for you, and accept my gift of one FREE session.